The Best Planting Tips for Sticks and Stones Pots
Growing plants can seem like a daunting task if you haven't had previous success, but with some knowledge of your products, forward-thinking and simple maintenance, it can turn into an extremely rewarding experience.
Here's a quick guide as to what plants are durable, and best suited, in the Australian climate, the benefits of concrete pots and some useful tips for soil maintenance.
 Plants That Love Pots
Succulents and Cacti are the perfect plants to combat Australia's harsh summer – and who doesn't love a succulent? They are found in parts of the world with very little rainfall where other plants would have no chance of growing, not to mention they are adorable. They come in a huge variety of colours, shapes and sizes which means they'll fit into almost every setting.
They make great household plants as they have minimal soil and water requirements. Overwatering is just as bad as under watering, so ensuring that the soil is moist but not soggy is the best way to maintain their health. If your succulents are struggling, place them outside in indirect sunlight for the day – think of it like taking a lazy dog for a walk. The Philodendron and the Peace Lily are extremely forgiving if you're looking for somewhere easy to start.
Small Australian native plants are also great for planting in pots and adding a splash of colour. Due to Australia's diverse climate – and at times extreme weather – native plants that have adapted to the conditions can often survive for a very long time and require easy caring. Natives suitable for growing in pots think bottlebrush or banksias, will require specifically formulated potting mixes depending on what part of the country they originate. It is much easier to change a soil mix in a pot than it is in a garden, making Australian natives and pots a perfect match.
No room for a vegie patch?
Herbs are also well suited to pots. But here's a big tip, make sure you don't put herbs that require a lot of water into the same pot as herbs that don't need as much.
Concrete Pots
Stick + Stones Outdoor offer a variety of stunning concrete pots that are perfect for planting in all year round. Here are some major benefits of using concrete pots for planting.
Concrete is strong and durable, and will not deteriorate nearly as fast as plastic or wood.
Concrete is heavier than other materials, making it more difficult for your plants to get knocked and damaged.
Concrete is very durable against the elements, particularly heavy rain.
Our pots' range from space efficient squash pot to the bulkier globe pots, all of which can hold a variety of plant species.
Not only are concrete pots variable in size, they also accommodate the growing needs of most plants and are unlikely to break when roots run out of space and try to escape. 
Concrete pots are also great insulators as their thickness assists in avoiding temperature fluctuations. It is important to note that darker coloured pots draw heat more quickly and may require a bit observation and watering if kept in direct sunlight.
While concrete pots are extremely sturdy, versatile and well insulated, they can cause the soil to dry out faster than other types of pots, so it is important to make sure to keep an eye on the soil texture to see whether it needs watering more regularly.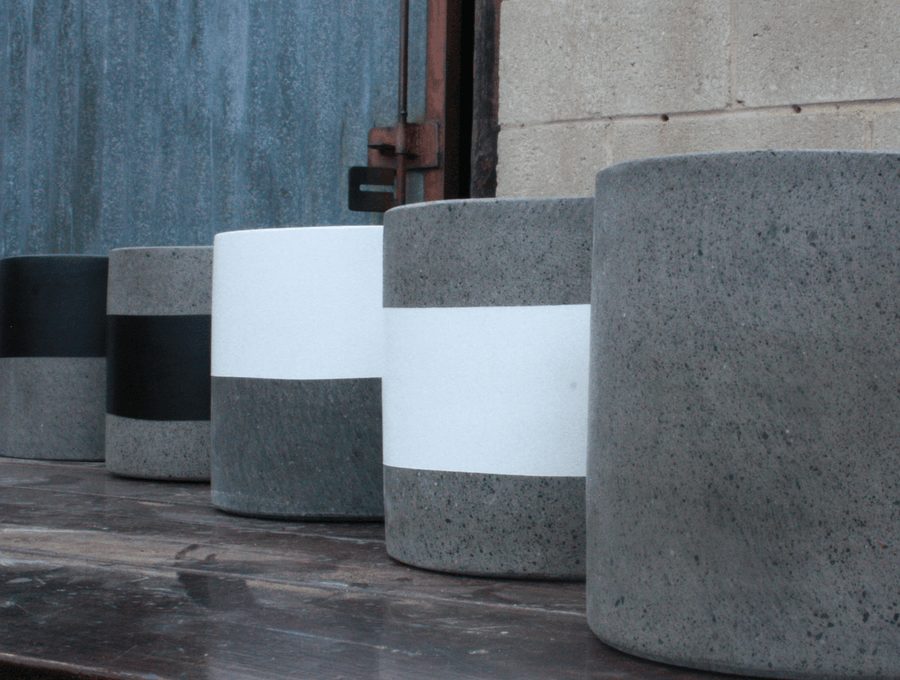 Potting Mix Tips
The quality of your soil can make or break your pot plant's lifespan, but taking a little bit of extra time to tend to your soil will yield amazing results.
Don't use soil from your own garden. There's a much higher risk of your garden soil containing weed seeds, insects, fungal diseases and bacteria.
Avoid overfilling your pot. Depending on the root system of what you're planting, you may not need as much soil as you think. A simple tip for saving soil is to put empty plastic bottles in the bottom-third of your pot, this elevates the soil and plant to the top of the pot, avoiding the need to waste soil.
Use premium grade potting mix when repotting, and replenish every couple of years. Over time, the soil's nutritional value naturally decreases and can pick up insects, diseases and fungal spores, which can ruin your new plants or harm your existing ones.
Pot plants need regular hits of fertiliser, the fertiliser found in premium grade potting mix typically only lasts a few months from potting. Fertiliser pellets are very effective and easy to use. Just make sure you water them into the soil afterwards. Liquid fertiliser is also available if your plants need a quick boost.
Sticks and Stones Outdoor offer a wide range of high-quality concrete pots that are perfect for growing beautiful plants, completely transforming your garden, small spaces both outdoor and in. Click here to find your perfect pot.