Adelaide boys and former contestants on Channel 7's My Kitchen Rules, Tim Attiwill and Kyle McLean achieved record-breaking, perfect scores for their meaty main course in 2017. Since then they've joined us for a cooking demonstration that will show you how to make the most out of our Kadai Indian fire pits.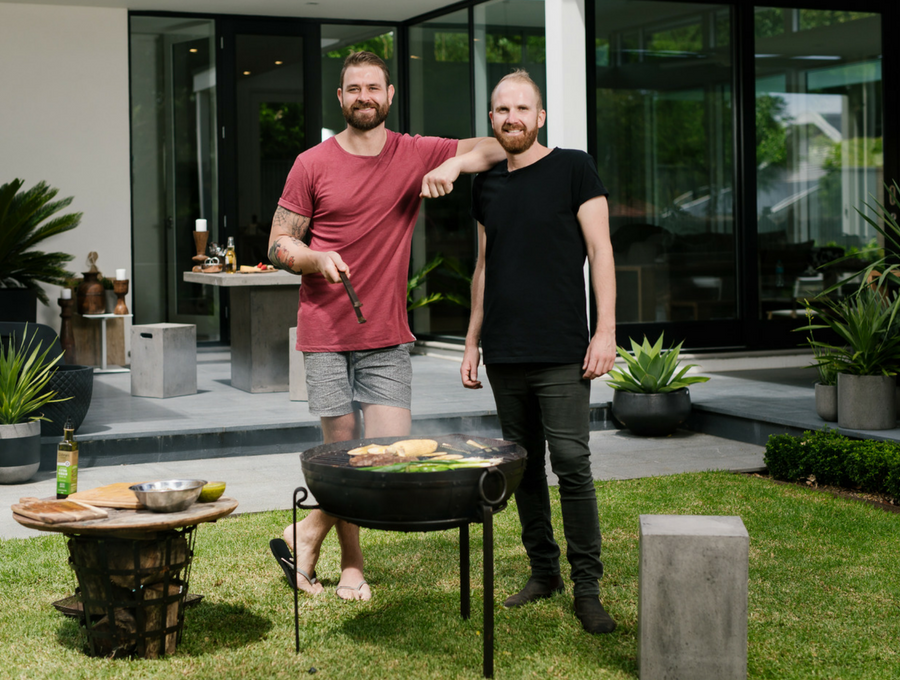 About Tim + Kyle and CARÕclub
No strangers to the art of lovingly-cooked protein, Tim and Kyle created CARÕclub upon their return from MKR, to pursue a dream of filling Adelaide's bellies with mouth-watering CARÕ (the Latin word for meat). In the making of CARÕclub the two joined forces with their best mate, Kain Slotegraaf, an Adelaide chef with experience at Bread & Bone on Peel Street, Noma and Street ADL––where he was introduced to the magic of cooking over charcoal by Jock Zonfrillo. Together their menu sets a benchmark in barbeque, with creative cuts and well-matched accompaniments.
In between catering our favourite local festivals and events in their pop-up kitchen, Tim and Kyle made the time to share some sensational recipes for your next backyard cook-up on our Kadai Indian fire pits. A South American inspired churrasco steak with a punchy salsa verde, and a marinated jerk chicken dish with hearty grilled vegetables, are about to be the new favourites in your barbeque repertoire. 'We love cookin' over coals', says Tim, fond of the beautiful charcoal flavour it imparts.  You can download the recipes here.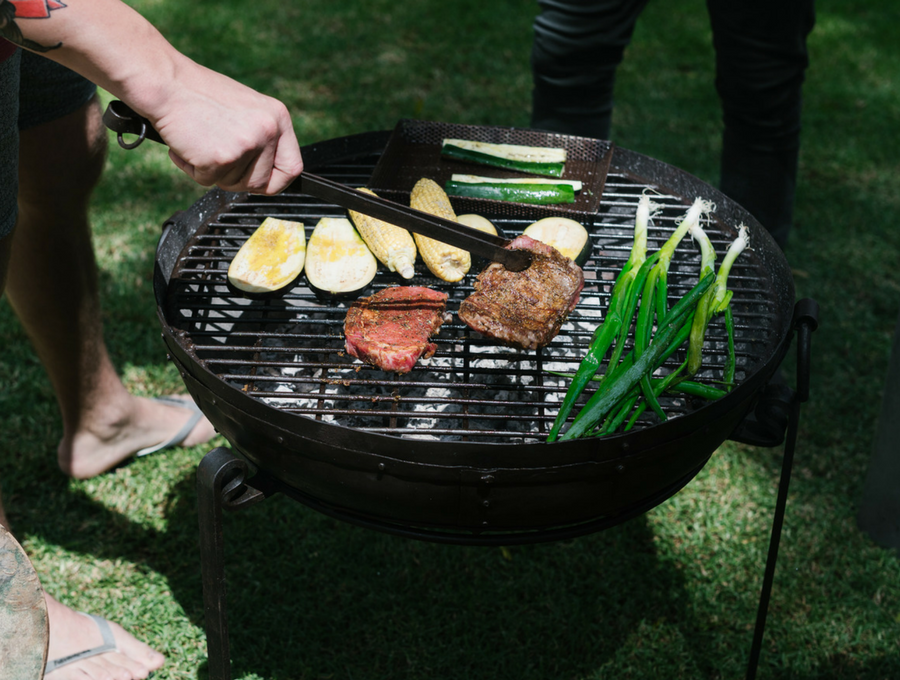 If you're looking for a way to emulate that gorgeous flavour, or you keep finding yourself stuck in the kitchen––do yourself a favour and check out our range of Kadai Indian fire pits and cooking accessories. Designed to fit the Kadai, our extensive assortment of cooking accessories will have you flipping, stirring and tasting right in the middle of the action.
While their approach to the sizzle is simplistic, Tim and Kyle's motto: 'prior preparation prevents poor performance' is equally assuring, 5 P's of confidence for even the clumsiest cook. With these tips and tricks, and elements that can be prepared the day before, you'll be relaxing with a pair of iron tongs in one hand and a beer in the other.
There's something about cooking outside on an artisanal relic, that turns your usual backyard barbie into a bit of an event.
About The Kadai Indian Fire Pit
At Sticks + Stones we proudly source these gorgeous Kadai Indian fire pits ethically, travelling to Rajasthan in the North-West of India to personally inspect and select our stock.
Traditionally used for cooking at celebratory events in ancient Indian cities, we aim to modify the Kadai Indian fire pits for the modern Australian lifestyle while maintaining the same love of celebration. You can politely ask the snags and shrivelled onions to step aside for a moment, while you whip up something that says: 'I love you' on birthdays, 'well done' after sporting events, and 'cheers' on sunny or wintery afternoons. Whether you invite the neighbours over or let them hang jealously over the fence is another story.
The iron skillet set is perfect for dishes like frittata and paella, while the iron tripod attachment is a stunning way to feed the masses––imagine a saucy curry, bubbling in the chain-hung iron bowl, with flatbread toasting below on our chapati pan, a truly authentic Indian cooking experience. We stock a large variety of sizes and styles throughout our entire Kadai range, from our smallest that's 400 millimetres, great for camping trips, to our largest that's almost 2 meters in diameter – a spectacular showpiece for your outdoor space. The authentic originals dating up to 100 years old, and artisan-built replicas made from hand riveted recycled steel.
The Kadai Indian fire pit has as many uses as it does sizes––perfect as a garden feature, water feature, ice pit or planter––but there is something ancestral and sensory about preparing a feast on one. Once the cooking is done, simply remove the grill plate and build a roaring bonfire to sit around and watch long into the night. Did someone say toasted marshmallows for dessert?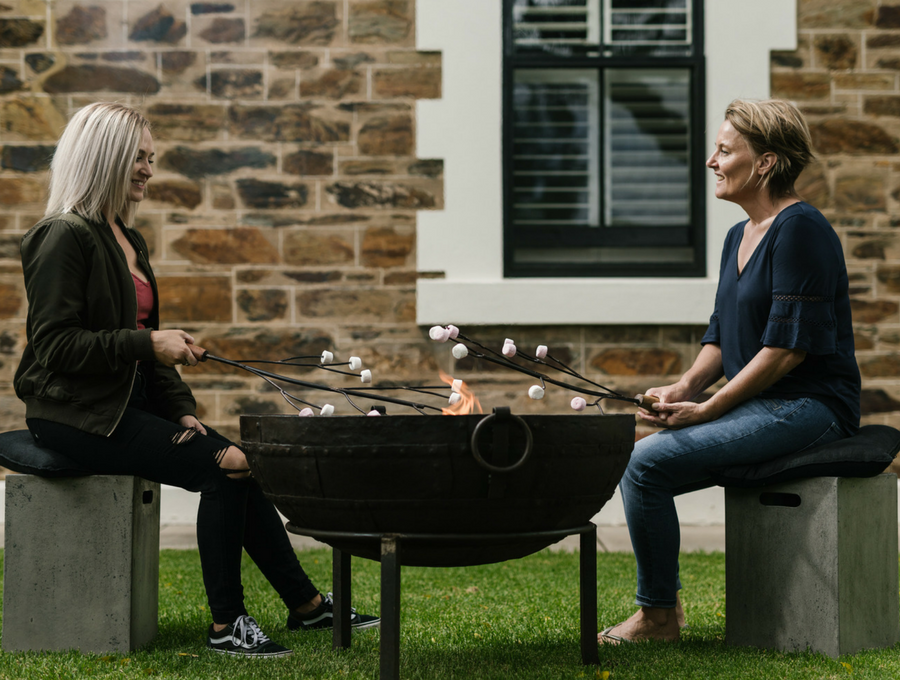 Get Your Hands on a Kadai
Celebrate starry nights and flame-grilled food by finally getting your hands on a Kadai Indian fire pit here.