We have always been fascinated by the ancient traditions of the Eastern world and the stories that follow their artefacts into the modern world.  After researching the products we wanted to source for Sticks + Stones Outdoor, we realised India has an unbeatable reputation for these premium quality products; not to mention we absolutely adore the people, culture, and the food. We knew immediately that we had to visit this incredible country, to handpick truly special pieces and bring home the stories of these products, to share with our customers.
The land of kings
We decided to focus our trip on the beautiful state of Rajasthan. As one of India's oldest habitations, its history and traditions are varied and gorgeous. Encompassing the rise and fall of many years of tribes, kingdoms, religions, wars and revolutions, the rich history provides many beautiful handicrafts and techniques that made it an obvious destination to hunt for one-off pieces for our collection.
At the end of a gruelling 16-hour flight from Adelaide, our Indian contact welcomed us at the airport in Jodhpur, Rajasthan. Called the Sun City or Blue City, this bustling metropolis is set against the backdrop of the stark Thar desert and is filled with palaces, ancient forts and temples. Our guide to this incredible city and showed us true hospitality from the moment we arrived, kindly organising everything for the length of our trip.
A follower of Jainism – one of the most ancient religions in the world – he happily shared stories of his family, his lifestyle and beliefs, which saw us joining him in eating a delicious vegetarian diet and abstaining from alcohol during our stay.
On the hunt
We manoeuvred through the hot, dusty streets – with tales of chaotic traffic holding true. Red lights were only taken seriously when they were in the form of huge cows on the road, and drivers exchanged side-mirrors and indicators for a vast (and ear-splitting) language of beeping horns.
As our friendship grew, so too did our contact's understanding of our style and taste. He quickly refined his list of suppliers, factories, and artisans to perfectly suit our needs. On the outskirts of Jodhpur, a dusty old building stood proudly in the middle of nowhere. Inside beautiful old doors, vibrantly crafted in another age, stood leaning against the walls. We made notes of the ones that we fell in love with and placed our order.
The vintage shops that we visited next were a treasure chest of reclaimed furniture; fantastic and unique pieces like deep seating sofas made from old trunks, rustic homewares, bowls, stools, mirrors, and a few more magnificent carved doors that we just couldn't go past. We had to work quickly because once these one-of-a-kind pieces go, they're gone. We learnt the hard way by missing out on a few gems that we still kick ourselves over! We now stock an extensive range of these fabulous finds on our website.
Knowing that we pride ourselves on strong, durable pieces, we were taken to a furniture factory that uses mainly Mango Wood. If you're interested in tables, cupboards, chests or anything else made to order, this is where we go.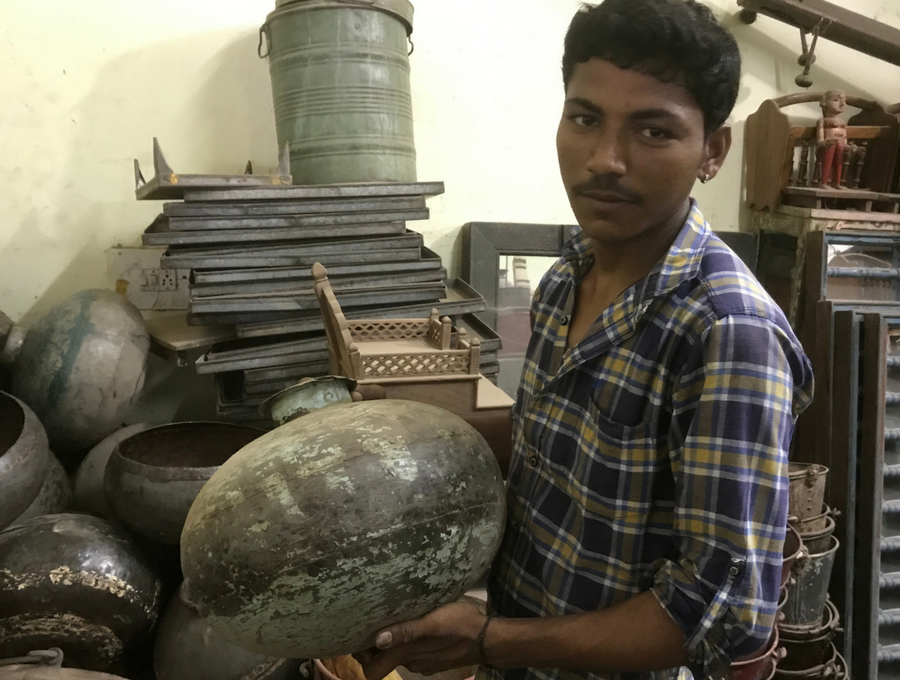 Meeting the makers
Sourcing the Kadai Fire Pits was a particularly memorable day. We were greeted out the front of a humble little home by some curious children and their goats, who led us to a workshop out the back. The vintage fire bowls here can be up to 100 years old, used by villagers for ceremonies, rituals and large cook-ups. We've changed the Kadai use into a fire pit, with the addition of cooking and grilling accessories as they really do bring back the theatre of cooking in such an amazing way. You can check out the recycled Kadai here.
The family-run businesses lovingly pass down the artisan skills needed to create and maintain these bowls, which are riveted together with precision and efficiency. We think Australians will enjoy using these incredible rustic gems, encouraging a culture of reusing and upcycling, rather than one of manufacturing more 'stuff'.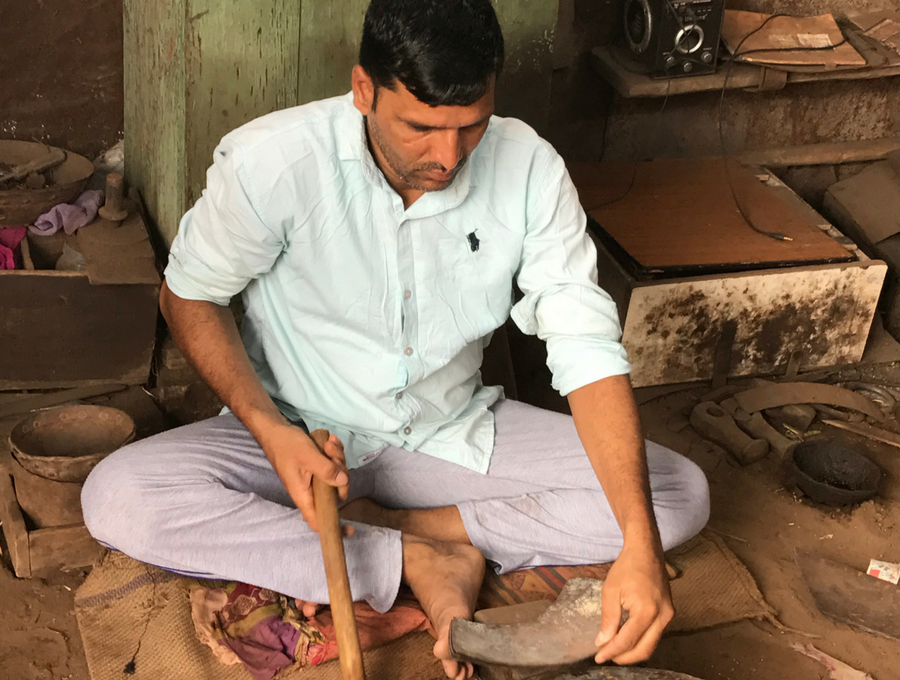 It's important to us that we stay in close contact with all of the suppliers we met on this trip and we can't wait to go back and visit with our kids. We're always learning more about the friends we've made and their culture, as they continue to get to know us.
Just like the people, all of the pieces we source are charming and unique, with an incredible story to tell. We know this is the start of a long and happy relationship, that is going to provide a consistent standard of interesting products that we can continue to adore.
Hugh and I are always happy to have a chat and discuss the story and history behind the source of our fantastic wares. So pop in store to see us discover the provenance and the fascinating history of some of our Indian pieces – and don't forget to check us out online for stock updates.