Teak outdoor furniture is extremely strong and durable, but it is important to maintain your teak products in order to preserve their natural beauty, particularly in the diverse Australian climate.
Teak outdoor furniture is often sold with its original golden tone and ages over time becoming more silvery or grey.
If you prefer the naturally occurring aged look of your teak furniture, it requires very little maintenance other than occasional dusting and cleaning.
If you wish to preserve the new golden tone that comes with new teak outdoor furniture, so the team here at Sticks + Stones Outdoor Furniture share our easy but necessary steps you will need to take to keep furniture looking good all year round.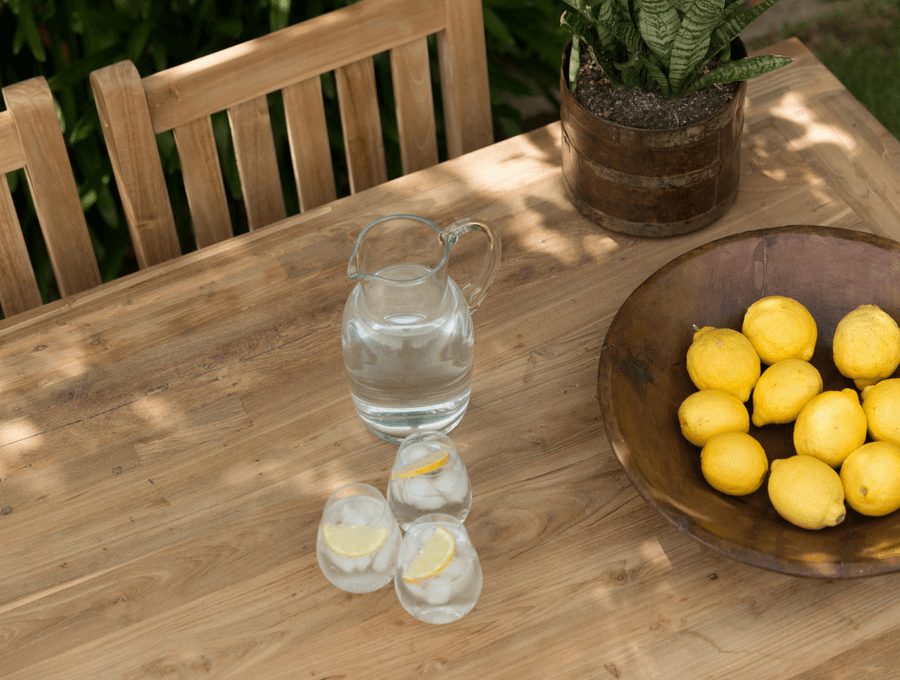 Cleaning

Teak outdoor furniture is very easy to clean. Often, all you will need is a soft plastic brush, mild soap and some water. Scrub with the grain of the wood for the best results. Afterwards simply dust off the furniture with a soft cloth.
To remove stains from your teak outdoor furniture, you can sand over the affected area, or buy a commercial grade teak cleaner that will even remove grease stains.
A useful tip is to start washing from the bottom of the furniture and work your way up to avoid leaving marks from dripping water over areas that have not been washed.
Maintaining Colour
The easiest way to maintain the golden tone of new teak outdoor furniture is to use a teak sealant soon after purchasing, and continue to apply the sealant yearly. This is usually enough to maintain the desired tone as teak naturally produces its own oil. If you do have to oil your teak outdoor furniture, there are teak specific oils available with added UV protection and mildew replants, which are particularly important in Australian conditions. Make sure you clean your teak furniture and allow it to dry before using sealant or oil.
Sanding teak outdoor furniture will bring back its original golden tone if you let it fade more than desired. It is important to note that sanding can be difficult depending on the shape of the furniture and how many surfaces will need sanding.
Battling the Australian Elements
Teak outdoor furniture is very durable and resilient on its own, but in Australia's diverse and sometimes extreme climate there are tips you will need to know to ensure your furniture is preserved for as long as possible.
Australian summers are notoriously harsh, so you may need to apply sealant or oil more regularly, especially if your furniture is kept in direct sunlight, to avoid losing the furniture's golden tone. Luckily, sun exposure will not cause any structural damage to teak outdoor furniture making it perfect for Australian conditions.
The severity of Australian winters vary regionally, and while teak is naturally quite resistant to water, overexposure can still cause deterioration and build-up of mildew.
Try to keep your teak outdoor furniture away from areas that generate puddles around the furniture's legs to avoid overexposure. If the weather is particularly torrential, it may be worth bringing your furniture inside if you have space due to both the rain and high levels of moisture in the air.
What Not to Do
Avoid using all-purpose wood cleaners or generic varnish. Teak wood has very specific qualities and requires teak specific products for maintenance for the best results. Varnish should be avoided as it can cause chipping and flaking.
Do not use pressure-washing devices on teak outdoor furniture. Pressure washers can cause damage such as coarse splintering and discolouration to the furniture's surface.
Do not use steel or brass wool brushes on teak furniture, as they are too abrasive. A simple kitchen sponge will do the job.
If you have any further questions or concerns about how to care for your teak outdoor furniture, we'd be happy to hear from you. And to view our range click here.
Cheers,
Kate and Hugh