We know that outdoor living spaces can be easily neglected. We tend to think more about our interior decorating, and often overlook what's happening in our outdoor space.
However, our outdoor areas can add immense value to our houses, providing us with various health benefits, and a functional and beautiful space to entertain our family and friends.
Here are seven top tips to transform your outdoor living space, in order to add interest, value and functionality to your home:
Go green
Adding splashes of colour and life to your outdoor space is essential. With low maintenance and inexpensive options, you can't go past plants to bring that something special to your outdoor space. Adding plants to our indoor and outdoor areas has also been proven to improve our wellbeing, our concentration, and our mental health.
If you're wanting a low maintenance option, small Australian native plants and succulents are a great go-to. They come in a variety of shapes and colours, they are a perfect way to add interest to your outdoor space. Whatever type of plant you decide to purchase, ensure you mix it up with different shapes, sizes, and colours, to create an eclectic and lively feel to your space. Concrete pots are also a savvy way to add interest and will support the plant for many years. Go neutral with greys, black and whites.
Veggies and herbs are also a fantastic way to improve the aesthetic and functionality of your home and these too can thrive in a variety of pots. Not only are they a great way to get your kids interested in where their food comes from and spend time outdoors, they also add an incredible combination of smells in the air.
Neutrals
If you cannot decide on what colour to highlight your space, go neutral for your base. Neutrals are simplistic and timeless, and adding a neutral palette to your outdoor space can add a sophisticated edge to your home styling. Neutrals are also an extremely easy colour palette to work with, as you can add pops of colour through little details—like cushions, plants and lights, and changeup this colour scheme on a regular basis to whatever is on trend.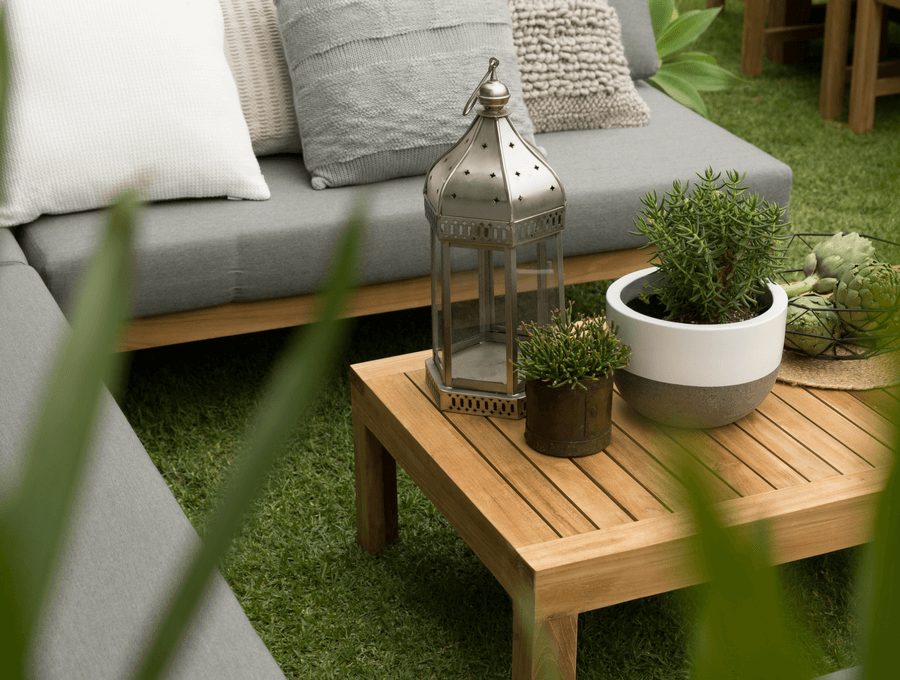 It's all about the Details
It is important to accessorise. Rugs, cushions, vases, and even plants are accessories that will add another element of interest to your outdoor area. This is especially important if you are opting for a neutral base. Different textures and patterns should be considered for accessories, but it is important that there is a consistent style, palette or theme that flows throughout the space.
Bring the Inside, Outside
Gone are the days of uncomfortable deck chairs and cushion-less seats. In recent times, we have seen an increase in bringing inside comfort to our outdoor spaces. Our backyards and balconies are meant to be a relaxing space for our family and friends, so choosing comfortable chairs or sofas is a must. Throw in some brightly coloured cushions for extra comfort, and soak in the Australian summer sun. Having an outdoor lounge area also adds more functionality to your outdoor space.
Create a Focal Piece
A focal piece will really centre the area and create a talking point for your guests. Your focal piece could be anything from your lounge, to an outdoor Kadai fire bowl, to a one of a kind vintage piece hand selected from India.  A focal piece will add an extra statement to your outdoor area and will encourage you to spend more time outdoors during all year-round.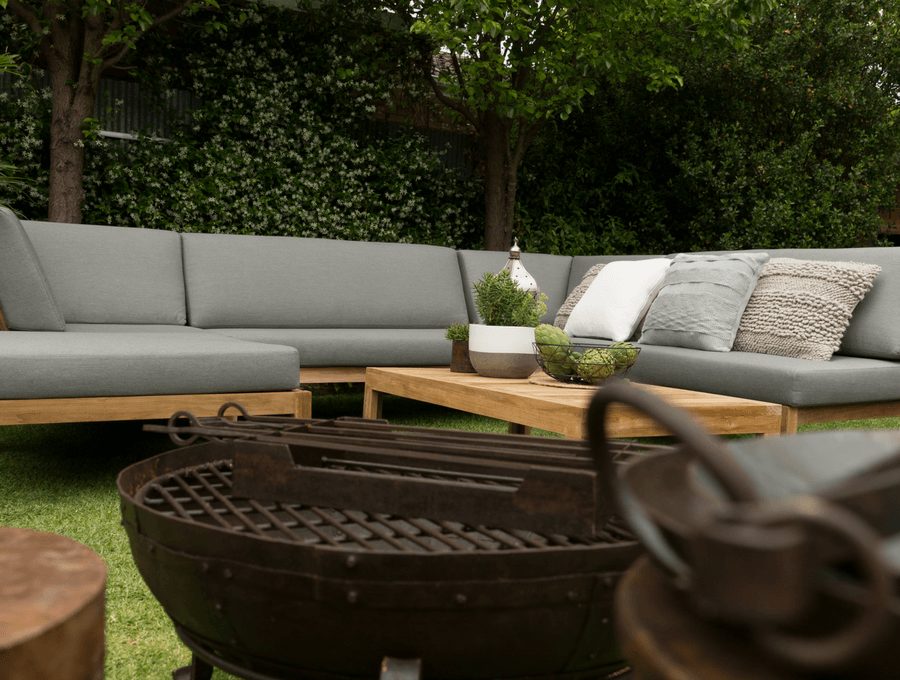 Know Your Elements
With the harsh Australian weather, it is important to choose features that can withstand the heat. However, opting for shelter is a great way to preserve your furniture, plants and other components of your outdoor area.
Depending on your budget, there are many ways to provide shelter, including a pergola, or a patio umbrella. Shelter also helps create a sense of privacy and can help create a cosier atmosphere.
Understand your Space
This is often gone unsaid, but it's important to use your space wisely. Don't get caught up in the glitz and glamour of intricate water features or 10-seater sofas if your space does not permit it. Choose your furniture wisely, if you have a smaller space – opt for chairs that can slide fully under tables, or a smaller outdoor dining area. Be realistic about your outdoor space and make sure that you don't overcrowd your space.
It is also important to understand how you are going to use your space. If you don't think you'll want to care for your plants on a regular basis, opt for succulents. If you think you'll be doing more activities in your backyard than lounging around on your outdoor sofa, choose larger chairs for entertaining your guests that don't take up as much space. Ask yourself what you are going to use your outdoor space on a daily basis and style accordingly.
Ready to treasure hunt for your perfect outdoor furniture? Check out our outdoor collection here.